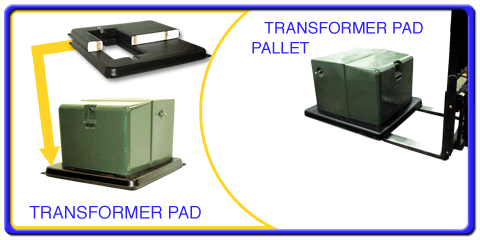 APPLICATION:
Transformer pads are designed to provide a flat surface for placement of the transformer, and also transfer the weight to the soil below. Formex® transformer pads are unlike any other produced today. These pads are exceptionally strong, long lasting, and have been manufactured since the mid 1970's to meet stringent utility industry specifications. Formex transformer pads meet or exceed industry requirements for chemical, U.V., flammability, impact, and load bearing resistances, offering load capacities over 6,000 lbs. Transformer pads produced by Formex® have proven to reduce installation time, boosting efficiency and ensuring that the installation is done right.
CONSTRUCTION:
Formex® begins with two sheets of high molecular weight polyethylene (HMWPE) for the outer skins, then inserts a core comprised of EPS foam and wood stringers. This core becomes the "backbone" of the transformer pad, as it is designed to hold well in excess of the weight required.
Standard Sizes
| | |
| --- | --- |
| PAD SIZE | CABLE OPENING SIZE |
| 42″ x 42″ x 4″ | 12″ x 20″ |
| | 12″ x 22″ |
| | 12″ x 25″ |
| | 12″ x 27″ |
| 44″ x 57″ x 4″ | 15″ x 29″ |
| 48″ x 48″ x 4″ | 14″ x 29″ |
Options
Custom pad sizes available at certain quantities
Flexibility in cable opening size on custom pads
Many styles of mounting hardware, consult Formex® for availability
Anchor holes, standard all four corners
Membrane can be left in cable opening if desired
FORMEX'S LATEST INNOVATION, THE PAD PALLET:
Formex® has taken its transformer pads to a higher level with their latest product, the Pad Pallet. The Pad Pallet combines the durability of a Formex® transformer pad with the functionality of a one piece stable shipping platform capable of two way forklift entry. This permits the installation of the transformer to be completed prior to shipment to the job site, greatly reducing time spent in the field, along with alleviating the need to dispose of a shipping platform afterward.
Standard Sizes
| | |
| --- | --- |
| PAD SIZE | CABLE OPENING SIZE |
| 42 ½" x 45″ x 5 5/16″ | 13 ¾" x 21 ¼" |
Options
Custom pad sizes available at certain quantities
Flexibility in cable opening size on custom pads
Membrane can be left in cable opening if desired